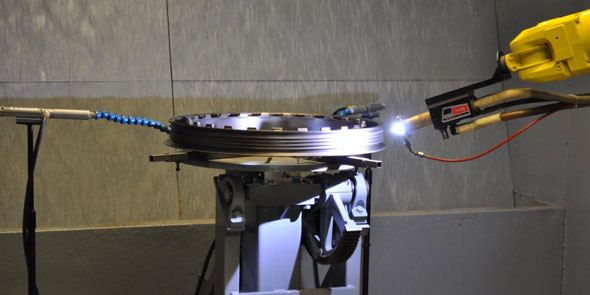 Oil and Gas Turbine Repair
At AERO Component Repair, LLC™, we have the capabilities, processes, experience, and machines to meet the gas turbine repair needs of the oil and gas industry. The industrial gas turbine are used in the oil and gas industry to drive pumps that pull natural gas or oil from deep within the earth.
Gas turbine are also used to generate electricity on oil platforms. When a gas turbine needs the blades re-tipped, airfoil for the turbine nozzle, or dimensional restoration, we are the best choice to carry out these gas turbine repair.
We can also do Saturn™ hub replacement in-house and Centaur™ air/oil seal or ID coating restoration. If you need a new tilt pad bearing, we can supply it for your Centaur™ engine. Regardless of the gas turbine repair you need, we do great work and pride ourselves in providing excellent customer service.
Solving Problems
With the exception of short shutdowns for maintenance, gas turbines used in the oil and gas industry operate continuously. These gas turbines run between five and eight years nonstop. This illustrates how important part longevity is to this industry and why we have to ensure every repair is technically correct and keep the long-term operation in mind.
In addition to working directly with oil and gas customers, we work with field service companies. Field service companies bring us the gas turbine parts they can't repair in the field for a precise repair and a fast turnaround.
Applications
We solve a number of unique turbine problems faced by the oil and gas industry. The following are gas turbine components and what we can do to repair them:
Turbine nozzles
Airfoil contour restoration, crack repair, pit repair, and FOD of the part
Machine gas path diameters to concentricity and size
Replace center hub, fluoride ion clean, braze, and airfoil insert installation
Restore airfoil/gas path protective coatings
Inner and outer combustion liners
Repair cracks and defects through welding
Reverse fretting wear by restoring thickness
Restore dilution hole geometry, thickness, and diameter
Restore baffle geometry and cooling hole
Fit with mating parts by restoring part contour
Gas Turbine shaft air/oil seals
Dimensional and visual inspection
Remove worn bearing material through pre-machining
Restore bearing material through flame spraying
Machine to final size post-assembly and restore holes and oil groove
Final inspection and cleaning
Gas Turbine blades
Fluorescent penetrant inspection (FPI)
Damaged material removal
Restoration of geometry and tip length through welding
Restore contour and geometry through hand finishing
Restore protective coating
Cleaning and polishing
Turbine nozzle segments
Airfoil contour restoration, crack repair, pit repair, and FOD
Replace or restore stage 1 cooling grommets
Heat treat
Restore blade path flame sprayed coatings
Brazing, fluoride ion cleaning, and airfoil insert installation
Airfoil/gas path protective coating restoration
Our welders are certified to AWS D17.1, and our NDT inspectors are certified to ASNT Level II FPI/MPI.