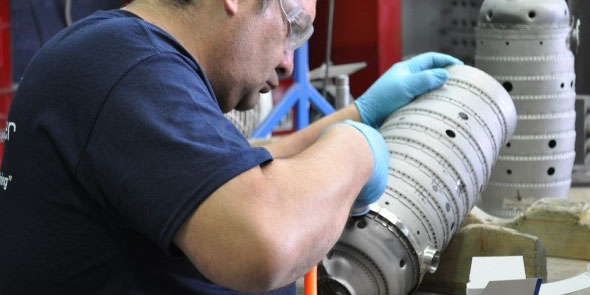 Power Generation Turbine Repair
Industrial turbines used for power generation must be durable because they can run 24/7 without a break for months or even years. Power generation is very important for the oil and gas, aerospace, and marine transportation industries, just to name a few.
Failure is not an option in any of these industries. Unfortunately, parts fail from daily wear and tear. When facing this challenge, it's imperative that the part is repaired as soon as possible so the power generation turbine can be put back into service.
Once the part is back in service, reliability is key. However, a turbine can't be as reliable as it should be if the part isn't repaired with longevity in mind. We execute the proper repair process to ensure the part is in durable and reliable condition so it can handle the workload for the long term.
Machinery, Capabilities, and Certifications
To ensure the best power generation turbine repair, we put our experience to work for you. AERO Component Repair, LLC™ is a FAA- and EASA-Certified Repair Station. We have welders certified to AWS D17.1 on staff to ensure the repair is done right. Our NDT inspectors are certified to ASNT Level II FPI and MPI.
The following are examples of the machinery that we use:
Brown and Sharp Cylindrical Grinder
HAAS CNC TL1 Lathe
Surface Grinder with Magnetic Chuck
Cordax Coordinate Measuring Machine with 24x20x15 Envelope
Assorted Mechanical Inspection Equipment
We have a full machine shop that enables us to do a wide range of power generation turbine repairs. The machines listed above are just some of what we use to ensure the part is repaired to like-new condition or better. You won't have to come back weeks or months later asking for the repair to be done again. Once the part is put back into service, our goal is for you to rely on its long-term operation. This goal has a positive impact on your bottom line and reduces turbine downtime. After all, time is money, and we want to save you both.